Products and techniques
The eight sample badges shown below illustrate the technical alternatives and details used in conjunction with embroidery. They are yours to combine as you like.
NOTE: We charge no extra for programming. Please note that you can order your badges with a Velcro® back or an iron-on hot-melt glue back.
---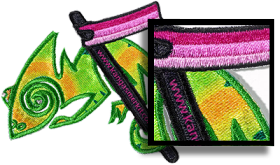 Digital printing + laser cutting
Digital printing produces a result as accurate as printed paper. It therefore allows details such as efficient colour fading, which would be impossible to implement using embroidery techniques.
You can freely add embroidery to a digitally printed label.
Laser cutting can cope with the most demanding forms.
---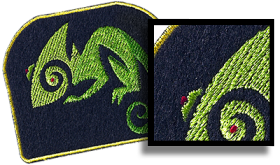 Felt
Felt is an excellent base material. You can select from an extensive range of colours.
You can also choose between a soft and coarse texture.
---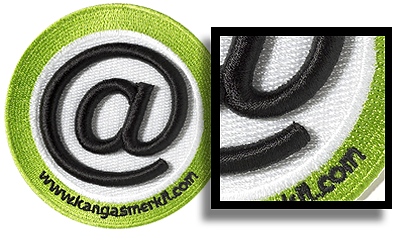 3D technology
3D technology provides the label with a three-dimensional expression.
---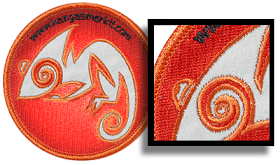 Reflective fabric + hemming
Reflective fabric is an entertaining choice for a base material. It is a good idea for outdoor apparel, for example.
Hemmed edge adds value to the label. With hemming, the stitching overlaps the edge, making it thick and soft.
---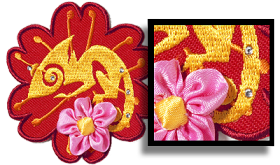 Fabric + chrystals etc.
This sample badge uses ordinary cloth as the base material. Embroidery on a fabric base is a popular technical alternative; it is both inexpensive and durable.
Our sample badge has embroidery in two colours. Crystals add a nice, personal touch to the badge. In addition to crystals and flowers, you can select from an extensive range of stars, balls, hearts, etc. of different sizes and colours.
---
Embroidery + UV tread
As the name suggests, a 100%-embroidered badge is totally covered by embroidery, i.e., no base material is visible.
Our thread palette has hundreds of different shades, including 20 alternatives for UV thread. UV thread is not that different from ordinary thread in natural light, but it is fluorescent in ultraviolet lighting, making it an excellent choice for party badges.
---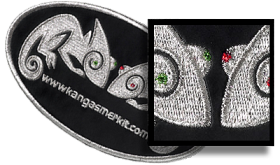 Artificial leather + metal wire
Artificial leather was used as the base material for this sample badge. You can select from dozens of shades and choose between a soft and a slightly coarser texture.
The ordinary embroidery thread can be replaced with metal wire. The metal thread shades are not limited to the most popular shades of gold and silver; instead, you can select from different shades of red, blue and green, for example.
---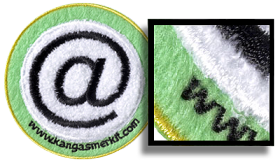 Applique + chenille
The applique technique combines pieces of base material and embroidery. It is a practical and inexpensive alternative particularly for large-size badges.
Fluffy chenille can be used as base material or placed in the parts of the badge you choose. Our sample badge has chenille appliqued on a felt fabric base. Finally, the text has been embroidered using black thread.
---
Useful hints for your design works
The size could be between 3 by 3 cm and 30 by 30 cm.
We recommend 4-5 mm for the height of the embroidered text to make sure it is clearly legible.
The badge can be of any shape.
The most popular edge finish in the badges is an edge embroidery with an approximate width of 2 mm, but a hemmed edge embroidery is also available.
The backside (reverse side) of the badges always has a thin gauze. This covers the threads on the backside, giving the label a carefully finished appearance.
The following alternatives are available for the backside: adhesive back (iron-on-label), Velcro® back, self-adhesive badge, safety pin, clip, etc.